Butter Chicken or Murgh Makhani
Indian cuisine is best known world wide for its use of spices. Its non-vegetarian side features a large variety of juicy, tender delicacies made with eggs, mutton, chicken, fish etc. Here, I have discussed an amazing recipe for one of the most popular Indian dishes, the 'Murgh Makhani', the delicious Indian version of Butter Chicken.
'Murgh Makhani' is an authentic Indian dish, which is now popular as 'Butter Chicken' in several countries all around the globe. The origin of this dish can be traced back to the times when the Mughal Empire ruled India. The dish was first invented in Delhi, the capital city if India, by a person working in the kitchen staff of a famous restaurant named 'Moti Mahal', located in a small place called 'Daryaganj' in the heart of Delhi. Although the basic recipe of 'Murgh Makhani' remains same, the actual flavor differs from restaurant to restaurant in India and abroad.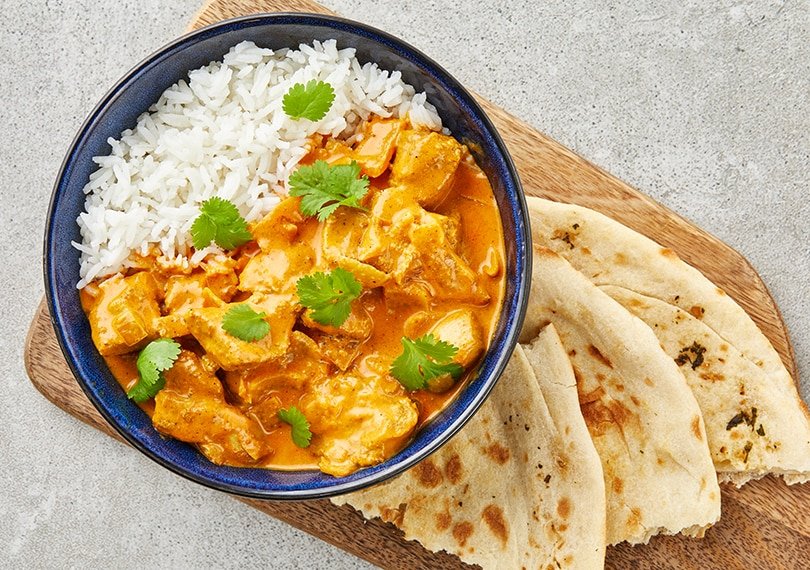 Served with steamed rice, 'naan', 'roti', or 'parathas' (forms of Indian breads), Murgh Makhani is prepared by marinating a chicken overnight in a mixture of yoghurt and various spices. The chicken is then grilled and roasted, and finally added to the Makhani sauce, which is made using butter, cream, tomatoes, almonds, and a mixture of various Indian spices.
Here is a detailed recipe for this popular Indian dish:  Click Here For Best Spices
Ingredients:
For Chicken Marinating:
– Chicken Pieces (boneless): 800 g
– Coriander Powder: 1 teaspoon
– Sour Curd: 1 tablespoon
– Ginger Paste: 2 teaspoons
– Garlic Paste: 1teaspoon
– lemon juice: 1 tablespoon
– Cumin Powder: 1 teaspoon
– Onion paste: 1 tablespoon
– Red Chili Powder: 1 teaspoon
– Salt to taste
– Few drops of orange color
For Chicken Gravy:
– 4 large tomatoes chopped
– 4 tablespoon Butter
– 1 tablespoon Fresh Cream
– 1 teaspoon Coriander Powder
– 1 teaspoon Cumin Powder
– 1 teaspoon Red Chilli Powder
– 1 teaspoon Black Pepper Powder
– 2 teaspoon Ginger finely chopped
– 2 teaspoon Green Chilly finely chopped
– salt to taste
– sugar to taste
For Garnishing:
– Melted Butter
– Fresh Cream
– Coriander Leaves finely chopped
Recipe:
1) Make small cuts in the chicken pieces.
2) Mix all the chicken marinating ingredients as listed above. Add the mixture to the chicken pieces and mix well.
3) Allow the chicken to marinate for a few hours (minimum of 2-3 hours).
4) Put the marinated chicken in a heavy bottom wok containing half the butter. Cover it well and cook until the chicken is properly cooked. Next, stir fry the chicken for a few minutes and keep it aside.
5) Heat the remaining butter in a saucepan and add the red chili, coriander, cumin and black pepper powders in quantities listed above.
6) Fry for a few minutes and then add the chopped tomatoes, sugar, and salt. Cook on medium flame till the tomato-butter puree thickens and the fat separates out.
7) Add the whipped cream and cook on low flame for 5-7 minutes.
8) Next, add the chicken pieces along with chopped ginger and green chilies to the gravy. Cover and simmer on low heat.
9) While serving, pour the melted butter on the chicken and garnish the dish with fresh cream and finely chopped coriander leaves.
10) The traditional Indian Murgh Makhani is ready. Serve it hot with Indian breads, such as a 'tandoori roti' or a 'naan'. You can also serve it with rice.